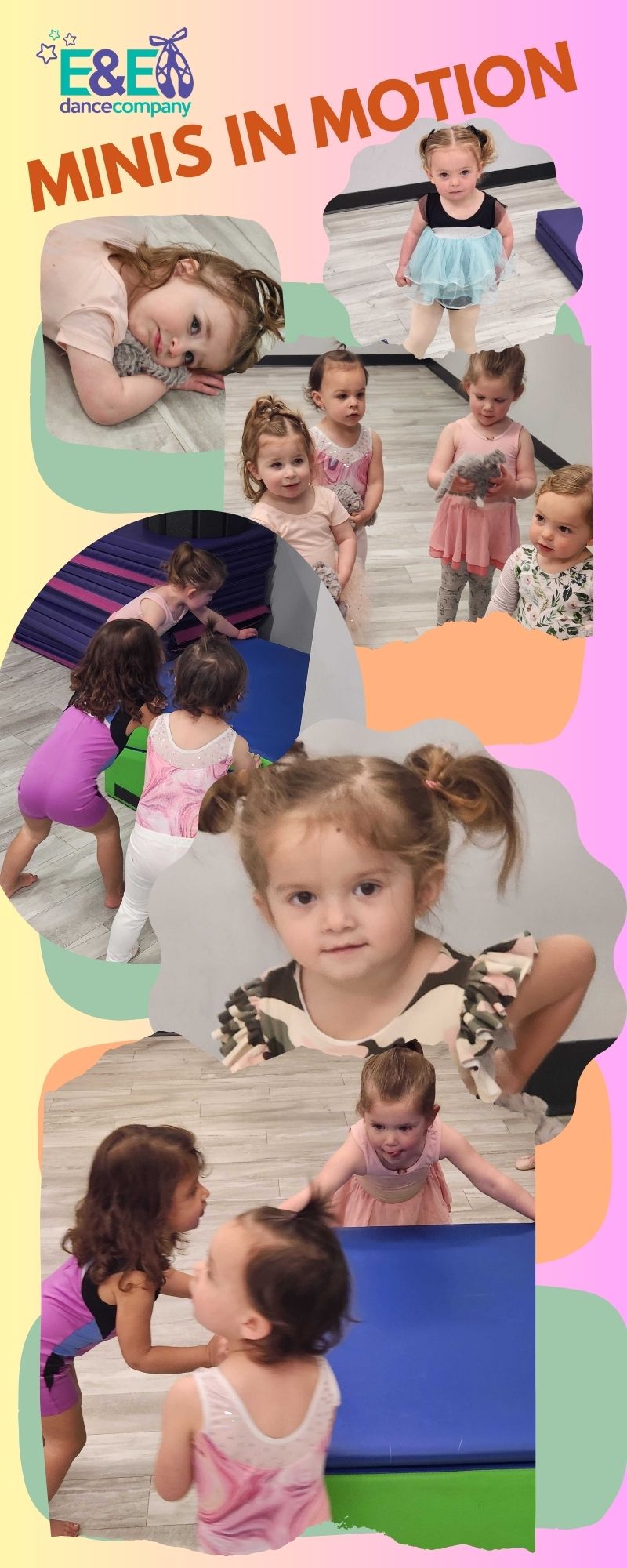 Minis in Motion
Introducing our Enchanting Parent-Tot Music and Movement Class: Minis in Motion!
Calling all parents and their adorable little ones aged 1.5 to 2.5 years! Discover the joy of bonding through rhythm, melody, and movement in our captivating Parent-Tot Music and Movement Class.
Unleash the magic of music: Watch your child's eyes light up as they explore the wonderful world of melodies, beats, and harmonies. Our experienced instructors will guide you and your little one on an enchanting musical journey filled with laughter, learning, and love.
Groove and giggle together: Get ready to groove, wiggle, and dance as you and your tot discover the joy of movement. Our class is designed to enhance motor skills, coordination, and body awareness, all while creating heartwarming memories with your precious bundle of joy.
A rainbow of activities: From gentle swaying to energetic twirls, our curriculum offers a variety of activities that cater to every child's unique rhythm. Through singing, dancing, and playing with simple instruments, your tot will develop a deep appreciation for music and movement from an early age.
Connect and bond: Our Parent-Tot Music and Movement Class isn't just about the children; it's about building a stronger connection between you and your little one. Share giggles, high-fives, and tender moments as you experience the magic of music together.
Highlights of the class:
Engaging music and movement activities tailored to toddlers' developmental stages.
Expert instructors with a passion for early childhood education.
Small class sizes to ensure personalized attention.
Safe and welcoming environment for parents and tots to interact.
Join the musical adventure: Enroll now and embark on a heartwarming journey of music, movement, and bonding. Our Parent-Tot Music and Movement Class will create memories that will last a lifetime for both you and your little one. Spaces are limited, so secure your spot today!
Class Schedule: Thursday Mornings at 9:45
Location: 10831 S. Crossroads Drive, Suite B, Parker, CO 80134
Contact us at (720) 295-2691 or email [email protected] to reserve your spot!
Let the melody of laughter and the rhythm of joy fill your days with the magic of music and movement. Don't miss out on this unforgettable experience with your tot!
Dancspiration
Dancspiration – Dance for All Abilities!
Discover the magic of movement in our Dancspiration class, thoughtfully designed for dancers with special needs. Led by the talented instructor Haley Kuster, this class welcomes participants aged 4 to 10 into a world of joyful dance and self-expression.
Time: Tuesdays, 5:30 PM to 6:30 PM
Ages: 4-10
Time: Fridays, 12:15 PM to 1:00 PM
Ages: 2-3
Dancespiration Highlights: ✨ Inclusive Environment: Our class provides a warm and welcoming space where every dancer can shine, regardless of their abilities. Rhythm and Movement: Through carefully curated dance routines and music, participants will explore the joy of movement and rhythm. Supportive Community: Join a community that celebrates individuality and encourages each dancer to express themselves confidently. Creative Expression: Dancers will engage in activities that foster creativity, boost self-esteem, and inspire self-discovery. Guided by Haley Kuster: Our fabulous Miss Haley brings passion and expertise to create a safe and enjoyable experience for every dancer.
Location: Sapphire Studio 10831 S. CROSSROADS DRIVE, SUITE B, PARKER, CO 80134
Whether your dancer is new to the world of dance or has been tapping their toes for years, Dancspiration welcomes all levels and abilities. Don't miss this opportunity to join a class where the power of dance knows no bounds.
For enrollment and inquiries, contact us at (720) 295-2691 or email [email protected]. Let's dance, learn, and celebrate the joy of movement together!